"My China Story" is the most authoritative online competition of short videos filmed by foreigners about China. It offers the most open platform for international content creators and has the most developed collaborative partnership network.
About the Competition
In every historical period there were foreigners like Marco Polo (1254-1324) and Israel Epstein (1915-2005) who were dedicated to telling stories about China. Today, the world is more willing to hear China's voice as never before, which provides a platform conducive to intercultural communication.
"My China Story" International Short Video Competition aims to encourage domestic and international content creation teams, foreign live streamers, We Media teams and individuals to create multilingual Chinese themed short videos from their unique foreign perspectives, telling their best experiences when visiting the country. Videos that tell creators' personal stories with China or present cultural exchanges between China and other countries in the third-person point of view are also welcome.
Organizers
Sponsor: China International Publishing Group
Strategic partner: Beijing Normal University
Co-sponsors: Zhongshan Municipal People's Government
Organizers: Beijing Xufang International Digital Culture Media Co., Ltd.
Information Office of the People's Government of Zhongshan City
Strategic support: Academy for International Communication of Chinese Culture,
China Intercontinental Communication Center, DOC CHINA Board of Directors, Beijing Returned Overseas Chinese Federation
Special partnership project: Looking China Youth Film Project
Academic support: Academy of Contemporary China and World Studies
Global strategic partner: National Geographic
Exclusive social media partner: Sina Weibo
Strategic partnership platforms: iXIGUA, Douyin(Tik Tok China), Toutiao, Bilibili
International support: Germany Overseas Chinese Association, Prime Media Group (New Zealand)
International media partners: Associated Press, Deutsche Presse-Agentur,
Antara News (Indonesia), African News Agency, Australian Associated Press
Suggested Topics
1. One Annual Topic
Lingnan Culture, Greater Bay Area
Stories related to Guangdong, the Guangdong-Hong Kong-Macao Greater Bay Area, or other bay areas in the world.
We are looking for stories related to the Guangdong-Hong Kong-Macao Greater Bay Area and the cities around it, stories about the development of internationally famous bay areas including New York, San Francisco and Tokyo, and stories related to Lingnan culture, especially the Cantonese culture. Your topic can be about historical heritage, economic development, technological innovation, tourism culture, social life, etc.
2.Three Themed Topics
a. Discover China across the World
China-related stories happening around the world
Whatever country or city you are in, use your camera to film the local Chinatown and stories about Chinese people, food, architecture, or companies. Tell us your stories with China. Whatever you are interested in about China is meaningful for us.
b. Expats' Experiences
Life stories of foreigners living in China
Have interviews with some expats in China, listen to their stories and film what they are up to here. Feel the interactions between China and the world from the details of our international friends' lives.
c. Town and Country Tour
Chinese cities and villages in foreigners' eyes
Every city or village has its own unique historical heritage and beauty. Join the foreigners who are visiting or living in Chinese cities or towns to document their daily stories.
3. One Social Topic
A Bite of Chinese Food Worldwide
Stories happening around the world about tasting, cooking and recommending Chinese food
There are many schools of Chinese cuisine and a variety of cooking techniques. Chinese food lovers are all over the world. There are many overseas Chinese restaurants. These food stories are exactly what we are looking for. Film them and participate in the competition by uploading to Douyin!
Prizes and Rewards
1. 30 Topic Awards
The judging panel will select one first prize (bonus 8,000 RMB), two second prizes (bonus 5,000 RMB), and three third prizes (bonus 3,000 RMB) for each of the five topics above.
2. Six Individual Awards
From the works that enter the final evaluation session of each topic, the judging panel will select six entries to give Individual Awards, namely Best Live Streamer Award, Best Story Award, Best Videography Award, Award for Best International Communication, Award for Best Online Communication, and Award for Best Short Video Series. Each winning entry will receive a bonus of 4,000 RMB.
3. One Grand Jury Prize
From the shortlists for the final evaluation session, the judging panel will select one work to award the Grand Jury Prize with a bonus of 20,000 RMB.
4. 50 Outstanding Awards
From all entries submitted, the judging panel will select 50 to give Outstanding Award and certificates will be issued by the competition sponsor.
Who may participate in the competition?
All topics above are open to both domestic and international, professional and amateur short video creation teams and individuals. Chinese organizations stationed abroad, overseas Chinese (students included), are also welcome.
Your entry video shall meet at least one of the following requirements.
1. There are non-Chinese-citizens speaking in the video or the protagonist of your story is a foreigner.
2. There are non-Chinese-citizens participating in directing, filming, and editing. He or she must serve as video designer, director, editor, videographer, etc.
3. Shooting scene is in other countries but the content is about China or China's interactions with the world.
Submission of Proposals and Entries
There are two submission sections in this year's competition. The first section is for video proposals and the second one is for video entries. Participants may consider submitting your proposal first before conducting filming or you can submit your video directly without taking part in the first section.
Submission of Video Entries
Submission Deadline: June 30
Ways to submit your video:
(1) Upload your video to your organization's or personal account on Bilibili, iXIGUA, or Sina Weibo. Follow the platforms' instructions and tick your video with the tag of the competition name to sign up for "My China Story" International Short Video Competition.
(2) Send your video to mychinastory@cnmatters.com in the form of large attachment or Baidu/ Google drive link (with password). The subject line of your email should follow this format: Your Name-Video Title-参赛.
Requirements for Entry Video
1. Videos can be submitted in the name of an institution, studio, or individual. Each participant can submit up to five entry videos. If your entry is a series or column, it should contain three representative videos.
2. There is no restriction for the form of your video or filming tool. Variety show, interview, talk show, short documentary, and Vlog are all acceptable forms. Videos can be produced with professional camera or mobile phone. The duration of each video should be less than 10 minutes.
3. There is no restriction for the language spoken in your video. However, for videos in languages other than Chinese and English, there should be Chinese/ English dubbing or subtitles.
4. Your video must be based on fact and real life and channel positive energy. It must not involve any pornography, violence, racial discrimination, or advertisement.
5. The resolution of your video should be 1280*720 or above. MPG, MPEG, AVI, MOV, WMV, MP4 are acceptable formats.
Benefits for Participants
1. Participants who take part in the proposal submission section have the opportunity to receive financial support.
2. Your entry videos have the opportunity to win more than one prize and award that come with certificates and bonus.
3. Up to two members of winning teams have the opportunity to be invited to the annual award ceremony and its sub-activities including evening party, sharing meeting, outstanding works exhibition, etc.
4. Award-winning videos have the opportunity to be promoted on media before and after the award ceremony. The winning teams and individuals may be interviewed by domestic and international media.
5. The winning videos have the opportunities to be shown on the partnership platforms and in domestic and international exhibitions held by the sponsor.
6. The winning videos will be published in the book named after the competition in both Chinese and English.
7. Outstanding anchors and teams will be invited to join the short video club created by the competition sponsor, where gathering activities, topic-sharing forums, and other photography-related events will be held.
8. Outstanding anchors and teams will be invited to become contracted partners of the competition sponsor, with whom the sponsor will jointly operate its new media international communication projects.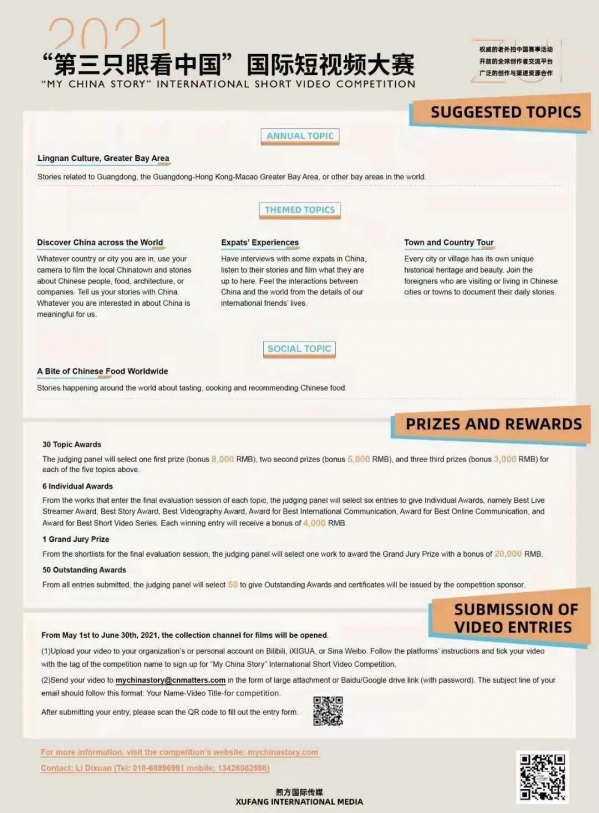 "第三只眼看中国"国际短视频大赛
远有马可·波罗近有爱泼斯坦,每个时代都有致力于讲述中国故事的外籍大家。所不同的是,今天我们面临一个更愿意倾听中国声音的世界,一个更利于实现跨文化传播的平台。
"第三只眼看中国"国际短视频大赛旨在面向中外创作者团队、外籍主播、自媒体团队与个人,征集多语种、多形态的中国主题短视频,展现外国人观察中国的独特视角,纪录外国人走读中国的精彩历程,聚拢散落在世界各地的中国故事,呈现第三方视角下的中外融通。
主办单位:中国外文局
战略合作单位:北京师范大学
承办单位:中国外文局煦方国际传媒、中山市人民政府
战略支持单位:北京师范大学中国文化国际传播研究院、五洲传播中心、纪录中国理事会、北京市归国华侨联合会、北京博声国际文化交流有限公司
特别合作项目:看中国·外国青年影像计划
学术支持单位:当代中国与世界研究院
国际合作伙伴:国家地理
独家社交平台:新浪微博
战略合作平台:西瓜视频、抖音、今日头条、哔哩哔哩
海外合作平台:德国华人华侨联合会、新西兰Prime Media传媒集团
活动海外发布:美联社、德新社、印尼安塔拉通讯社、非洲通讯社、澳大利亚联合新闻社
(一)年度单元:岭南文化,湾区故事
发生在世界各地的,与广东,与粤港澳大湾区,与国际各湾区有关的故事。
征集与粤港澳大湾区及沿线城市相关的故事,与纽约、旧金山、东京等国际知名湾区发展相关的故事,与岭南文化尤其广东文化相关的故事。主题包括历史传承、经济发展、科技创新、旅游文化、社会生活等。
(二)主题单元
1.行至世界,发现中国
发生在世界各地的,与中国有关的故事。
无论你在哪个国家、哪座城市,都可以拿起镜头(手机),拍拍你身边的中国城、中国味儿、中国人、中国事、中国建筑、中国企业,讲讲你在那里的故事,那里与中国有关的故事。你感兴趣的,就是我们想看到的。
2.身在中国,纪录你我
发生在中国各地的,与"老外"有关的故事。
拿起镜头(手机),聚焦身在中国的"老外"们,讲讲他们独特的经历,拍拍他们爱去的地方,在做(想做)的事情,身边的人与事等等。由他们在中国的经历与故事,传递中外交往中的生动细节。
3.走读城市,探寻乡村
"老外"所见的中国城市与乡村。
每一座城市与乡村,都有其独特的历史传承与美丽风景,都有其独特的风土人情与百姓故事。期待你与行走在中国大城小镇的"老外"们,亦或生活在其中的"老外"们,共同记录下这些日常又生动的故事。
(三)社交单元:食见中国,吃遍全球
发生在中国及世界各国的,品尝、制作、推荐中国美食的故事。
中国美食流派众多,烹饪技巧多种多样,爱好者遍布中国各地、世界各国。外国人吃中餐,学做中国菜,海外大大小小城市里的中国菜……都是我们正在寻找的美食故事。把它们记录下来,上传到抖音平台,参与活动吧!
1. 单元奖(30个)
从年度单元、主题单元、社交单元等5个单元中,每单元评选出一等奖一部(8000元奖金),二等奖两部(5000元奖金),三等奖三部(3000元奖金)。获奖作品可以是单个作品,也可以是系列作品,以系列作品参赛的,需提供3集代表作品。
2. 单项奖(6个)
从所有单元进入终评环节的作品中,评选出6个专业板块奖项,分别为:最佳主播奖、最佳故事奖、最佳摄影奖、最佳国际传播奖、最佳网络传播奖、最佳系列短片奖等。每个奖项奖金4000元。
3. 评委会大奖(1个)
从进入终评环节的所有作品中,评选出一部评委会大奖作品,奖金2万元人民币。
4. 优秀作品奖(50个)
从所有参赛作品中,优选出50部入围作品。由主办单位颁发获奖证书。
参赛范围
所有单元均面向全国各地、世界各国的短视频专业团队、爱好者团队或个人进行征稿。国内创作者团队或个人,驻外机构、海外华人华侨、留学生团队或个人均可参赛。参赛作品需满足下列条件中的任何一个:
1. 有外籍人士出镜讲述,或故事中人物为"老外"。
2. 由中外团队共同策划、拍摄并完成制作,"老外"在其中担任导演、策划、摄像、制作等职务。
3. 故事发生在海外,内容与中国、中外交流相关。
作品征集
征集时间:即日起至6月30日
报送途径:
(1)将作品上传至西瓜视频或哔哩哔哩网站的机构或个人账号,勾选"第三只眼看中国"活动标签,报名参加"第三只眼看中国"国际短视频大赛。
(2)参赛作品以超大附件形式或网盘(百度/Google Drive)链接与密码形式发送至邮箱:mychinastory@cnmatters.com(邮件标题请注明"作者—作品名称—参赛")
作品要求
1. 以机构、工作室、个人名义参赛均可。每个参赛主体报送作品不超过5件。按系列或栏目参赛的作品,需提交三件代表作品。
2. 作品形态不限。主播综艺、人物访谈、脱口秀、短纪录片、Vlog均可,专业摄制或手机拍摄均可。时长10分钟以内。
3. 作品语种不限。中、英文之外的非通用语种作品,需添加中文/英文配音或字幕,以方便顺利参加评审。
4. 作品以真实生活为创作素材,积极传播正能量,不得涉及色情、暴力与种族歧视等内容,不得植入广告。
5. 作品分辨率为1280*720或以上,接受MPG、MPEG、AVI、MOV、WMV、MP4等格式文件。
参赛者权益
1. 参与创意征集环节,有机会获得作品摄制启动资金。
2. 参赛作品,有机会获得优秀作品、单元大奖、专业奖项、评委会大奖等奖项,以及相应证书或奖金。
3. 获奖团队(1—2人)有机会受邀参加年度颁奖典礼系列活动(颁奖典礼晚会、年度交流分享会并做主题分享、优秀作品展映展播等)。
4. 获奖作品有机会在颁奖典礼前后获得高频率现场与媒体曝光,接受国内外媒体采访。
5. 获奖作品落地大赛合作媒体平台并有机会参加主办方在国内外举办的展览展映活动。
6. 获奖作品受邀出版大赛同名视频中英文图书。
7. 邀请优秀主播和团队加入主办方组织的短视频俱乐部,参加线下沙龙,共享优质选题,协助国内拍摄。
8. 邀请优秀主播和团队成为主办方签约合作伙伴,联合运营新媒体国际传播项目。